Network Security Reviews
We offer network security testing and configuration reviews of all network firewalls, routers, switches, load balancers and web application firewalls.
This covers firmware versions, password polices, port security, firewall rule set review, network protocols, access control lists and management services.
We also offer vulnerability scanning against network devices, segregation testing between subnets and VLAN hopping testing.
Network security reviews test network devices and their running configuration.
A typical network security review consists of a manual review of the running configuration of the device itself to identify any security configuration issues.  This is a much more detailed review than a vulnerability scan and can identify miss-configured devices that could leave the network or the management of the device at risk.
Typical configuration checks are listed below:
Weak passwords
Weak password storage/hashing
SNMP management configuration issues
Weak ACL (Access Control Lists)
Firewall rules
Legacy protocols
Logging and auditing
Management protocol issues (telnet/SSH)
SSL configuration weaknesses
Port security settings
Routing protocols
VLAN configuration
Network security reviews check that the devices, networks and rules are configured in line with security best practice and that there are no miss-configurations that could leave the network or device vulnerably.  If vulnerabilities are found these can be rectified before an attack or security breach occurs.
Network security reviews and testing will enable you to:
Manage vulnerabilities
Identify any security configuration issues
Standardise build procedures for devices
Avoid extra cost and reputation damage from a security breach
Provide evidence of compliance with regulatory and certification standards
Provide assurance to customers and suppliers that their data is secure
We are able to conduct testing and configuration reviews of all types of network devices, examples of the most common are listed below:
Firewall configuration review (Checkpoint, Cisco, Juniper, Sonicwall, Dell , WatchGuard, Fortinet, Foundry, Palo Alto and Barracuda)
Switch and router configuration reviews (Cisco, HP, Alcatel, Lucent, Brocade and Juniper)
Load Balancer configuration reviews (Cisco, F5, JetNexus, Brocade and loadbalancer.org)
Management interface build review or exported configuration review
Software based firewalls such as Microsoft Forefront TMG
Cloud based network security groups and rules (AWS, Azure, UKCloud)
Physical and virtualised devices
Armadillo Sec are a CREST certified testing body and we are accredited to operate as a CHECK service provider. All of our testers are certified by CREST and our senior consultants are certified by CREST to the highest CCT Level. Our testers are also CHECK Team Leaders (CTL's) or CHECK Team Members (CTM's) and are approved to conduct government CHECK testing.
Our team have many years experience conducting a broad range of government and commercial tests and always aim to go the extra mile for our customers.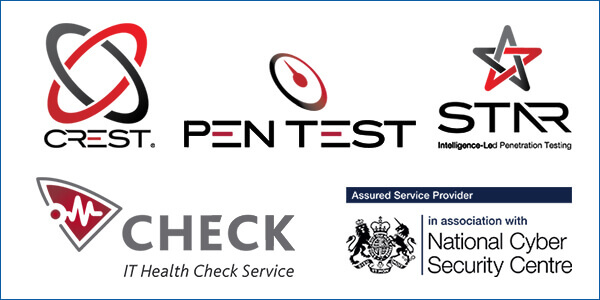 Frequently Asked Questions
We offer the full range of cyber security testing services
Ready to discuss your project?