Penetration Testing
We offer full, CREST and CHECK approved, penetration testing (also known as an IT Health Check, ICT Health Check or a pentest) services for internal and external networks. We cover all areas of penetration testing such as applications, infrastructure, PCI DSS, mobile, build reviews,
cloud hosting, wireless, database reviews and vulnerability assessments.
Penetration testing (also known as a pentest or pentesting) is an authorised simulated attack on a computer system, network or web application to identify vulnerabilities that could be exploited.  Testing should be conducted from outside the organisation (external testing) and from inside the organisation.
The vulnerabilities identified are reported back to the system owner along with mitigation recommendations.
Penetration testing can also be used to test an organisation's compliance with security policies, the security awareness of its staff and how effectively it can respond to security threats. 
A penetration test can provide assurance that the systems and security controls tested have been configured in accordance with best security practice and that there are no common or publicly known vulnerabilities in the target system at the time of the test.  If vulnerabilities are found these can be rectified before an attack or security breach occurs.
Penetration testing will enable you to:
Manage vulnerabilities
Avoid extra cost and reputation damage from a security breach
Provide evidence of compliance with regulatory and certification standards
Provide assurance to customers and suppliers that their data is secure
Popular Services
Our most popular penetration testing services can be found below:
Application Testing
Website and application penetration testing.
Infrastructure Testing
Internal and external penetration and vulnerability testing.
Build Reviews
Server, workstation and network device build reviews.
Cloud Testing
Cloud hosting application and infrastructure testing.
We offer the full range of cyber security testing services
Why Choose Armadillo?
Armadillo Sec are a CREST certified testing body and we are accredited to operate as a CHECK service provider. All of our testers are certified by CREST and our senior consultants are certified by CREST to the highest CCT Level. Our testers are also CHECK Team Leaders (CTL's) or CHECK Team Members (CTM's) and are approved to conduct government CHECK testing.
Our team have many years experience conducting a broad range of government and commercial tests and always aim to go the extra mile for our customers.
Easy To Understand Reports
If your team can't understand the report, you may not fully be able to remediate the issues found.  We offer a full report walk through with your team so they can plan remediation steps and understand the risk and impact to assets to ensure any findings are properly understood and can be resolved.
We are very proud of our report and we can provide you with a sample pentest report upon request.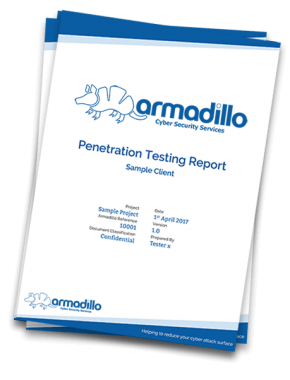 No Cancellation Fees
We understand project deadlines can slip.  If you do have to cancel at short notice we will not penalise you and instead work with you to adjust project timelines accordingly.  If cancelled with 2 weeks' notice, there is no charge at all.  If cancelled with less than 1 week's notice we will charge you the cost of the proposed activity, but this will be stored as testing credit for you for you to use when you are ready.





Frequently Asked Questions
We offer the full range of cyber security testing services
Ready to discuss your project?